PREMIÈRE SPA
Content Blocks
---
Première Spa is equipped according to the latest innovations in the world of wellness and offers guests programs created with a unique and innovative method.
---
Première Spa Menu
---
Page 3 - Thermal Treatments.
Page 6 - Inhalation Therapies.
Page 7 - Physiotherapy and Personal Trainer.
Page 8 - Massages.
Page 12 - Facial.
Page 15 - Body.
Page 17 - Beauty.
Page 19 - Therapy Programs.
Page 20 - Première Thermal SPA
Page 22 - Illustrated Map.
---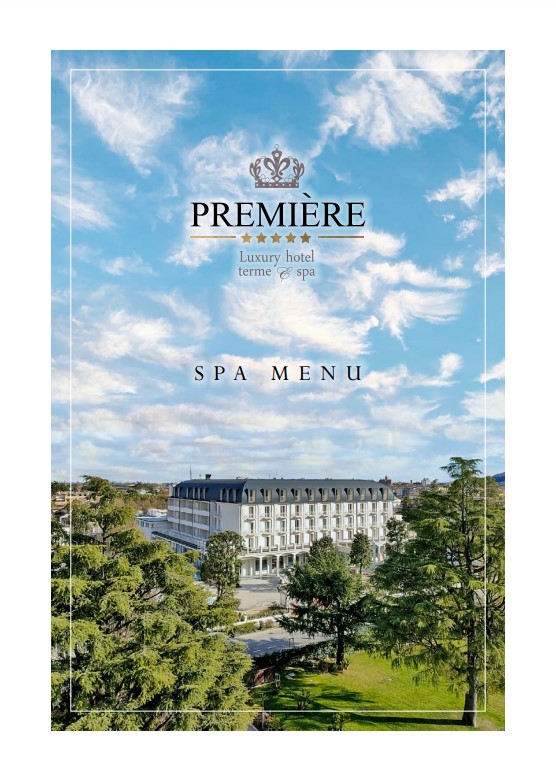 Salus Swimming Pool
---
outdoors of about 35°C and equipped with individual internal cylinder hydromassages and ergonomic immersed external beds, about 20x10 c large and 130cm deep.
Accessible from the Mediterranean park or from the inside, especially in the winter months, to enjoy exciting warm baths even while the Piscine (description) snow falls.
---
Virtus Swimming Pool
---
Indoor of about 20x10m with a constant depth of 140cm immersed in the central Relaxation Zone bordering the Kids Waterclub pool
Surrounded by large spaces where there are deckchairs and beds for each of our guests.
---
Venus Swimming Pool
---
Outdoor secluded, quiet and peaceful. It maintains a pleasant temperature around 30 ° C with bench whirlpools
completely immersed in the green of the Mediterranean park which enjoys its own mini beach with the sand of Puglia. 25x10m large and 150 cm to 2.2 m deep.
---